Early Careers

From Graduates to Apprentices, Colt's network of bright, connected minds is transforming the way that we work at a time of digital transformation. If you are looking for a career with clear development plans in a global organisation, then join us in our mission to be the digital infrastructure company that the world's leading businesses choose to connect with.
Work experience and internships

We offer work experience opportunities for students still in education. You'll learn what it's like to work in a global technology company. It will help you decide if a career at Colt is for you and you will leave you better informed about what you want to do once you finish your studies.
Early Careers roles and programmes
Looking to start your career? We have apprenticeships, graduate schemes and early careers roles that will help you make your mark at Colt. You'll be part of a cohort from around the world. We'll give you access to mentors, training, and on-the-job opportunities so you can develop the technical and soft skills needed for your future.
Early careers roles and programmes

We'll give you control of your work life. We're flexible first - that's a given. You'll get paid annual leave and two days each year to spend on volunteering opportunities. We want to invest in your interests just as you are investing in us.
"Colt has a great work culture with lots of learning opportunities. The scope for career growth is great here!"
Kiran Mahara
2023 Graduate Engineer in the Data Strategy

and Innovation team, Technology and
Security Office,
India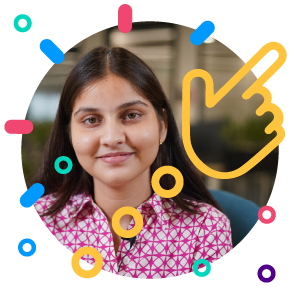 Testimonial

"Colt has a great work culture with lots of learning opportunities. The scope for career growth is great here!"

Anu Dubey
2023 Graduate Engineer
Service Delivery Team,
Operations and Engineering, India
Frequently asked questions
School & University Graduate Opportunities
+
Do I require any experience before my role?
No experience is required to apply for an early career job at Colt.
+
Does Colt offer remote jobs or flexible working arrangements?
Colt adopted a 'Flexible First' policy which is promoting the flexible working arrangements. Based on the type of your role, this may be applied in different ways.
+
Do I apply in English or in the language of my location?
Your application should be done in English, including your CV or other additional documents.
+
Can I complete my studies while working?
In general yes, but this will depend on the type of the job requirements.
+
Do you offer apprenticeships and qualifications?
Yes, Colt is developing partnerships with schools and other institutions entitled to run apprenticeships in different countries where we have offices.
+
Does Colt pay for any qualifications?
Yes, based on the role and your development requirements, we can fund the necessary qualification.
+
Will we work as a cohort of graduates, or individually?
You will experience a mixture of both sides. Our Early Careers programmes are developed to create network opportunities and ways to learn from each other. On the other side, you will be empowered to work individually when necessary.
In-Education Opportunities
+
What is the duration of an internship?
The duration of an internship may vary from team to team but also from country to country to be in line with the legal requirements. It can be between 2 or 4 weeks.
+
Can I work remotely during my internship?
Yes, remote working is allowed in most cases but will depend on the nature of the role.
+
Do I require any experience before my internship?
No, work experience is not required before your internship.
+
What are the chances of getting a full-time job after my internship?
We encourage and support all our interns to apply and be part of any recruitment process if a role is available.
Other questions? Please drop us an email at earlycareers@colt.net
Frequently asked questions